An Introduction to Buddhism

Written by Venerable Lama Tenzin Kalsang

(An excerpt from the "Multifaith Information Manual" chapter on Buddhism, 1995)

FOUNDER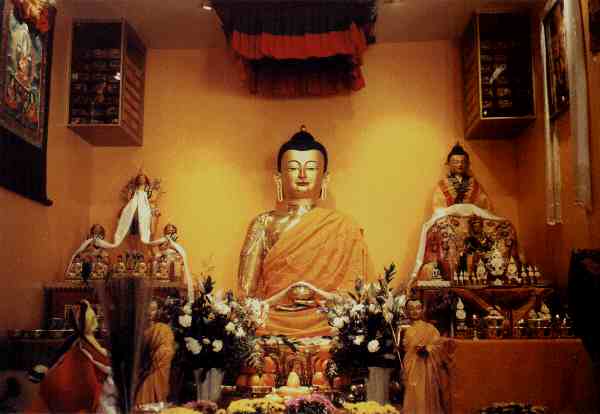 Lord Shakyamuni Buddha, 539 B.C.
---
NATURE OF RELIGION
Study of the Mind to Attain Liberation from Suffering, Enlightenment and
The State of Buddhahood.
A Profound Paradigm of Psychology, Spiritual Philosophy and
Practice to Liberate All Beings from Suffering.
Personal insight replaces belief in God with
the complete study of the Laws of Cause and Effect - Karma.
Basic Tenet: Reincarnation

Buddhism is essentially a monastic religion, with novices and full ordination for monks and nuns. However, Lord Buddha also taught spiritual practices for lay people to follow. The emphasis here will be on the practices for lay people.



---
SCRIPTURES

Basic Types of Scriptures:

Hinayana: Tripitaka
Mahayana: Sutra
Vajrayana: Lam Rim



---
BASIC TEACHINGS

All paths of Buddhism embrace the following basic teachings of Lord Shakyamuni Buddha,
THE FOUR NOBLE TRUTHS.

THE FIRST NOBLE TRUTH - DUKKHA

Ordinary existence is a State of Suffering.

The Three Types of Suffering:

Physical Suffering: This includes birth, sickness, old age and death.
Impermanence: Impermanence pervades all things
Mental Suffering: Mental Suffering consists of conditioned states. It is the worst of all suffering, leading to a negative mind and affecting all aspects of life. Eventually, this negative mind leads to rebirth into one of the lower realms; one of the hell realms, the hungry ghost realm or the animal realm. The negative, unvirtuous mind causes the following effects:
1) Body: Killing, stealing and sexual exploitation of others.
2) Speech: Lying, angry words, slander and meaningless gossip.
3) Mind: Ignorance, greed, anger.

THE SECOND NOBLE TRUTH - THE ARISING OF DUKKHA

Cause of Suffering

Suffering is caused by an ignorant state of mind. We have been misinformed by our culture and lack LORD BUDDHA'S teachings; hence, bondage to a false reality.

THE THIRD NOBLE TRUTH - THE CESSATION OF DUKKHA

End of Suffering

Suffering is ended by renouncing the negative mind, developing loving kindness and compassion for all beings, and by cutting out the root of ignorance, which brings about understanding of the true nature of reality. This causes personal liberation from suffering and lasting peace of mind. Such realization creates harmonious relationships between oneself, all beings and the environment.

THE FOURTH NOBLE TRUTH - THE PATH

Embracing the teachings of LORD BUDDHA

The only method by which one can attain liberation from suffering is to follow the path of Buddhism. This requires mental discipline and the actual practice of LORD BUDDHA'S teachings, which involve many lifetimes of devoted effort and commitment.



---
The Eightfold Noble Path: (for Lay People only)
Wisdom
1) Right Understanding
2) Right Intention
Ethical Discipline
3) Right Speech
4) Right Action
5) Right Means of Livelihood
Mental Discipline
6) Right Effort
7) Right Mindfulness
8) Right Concentration



---
Five Precepts: (For Lay People only)
The five precepts deal with all aspects of life: body, speech and mind.
(A person may undertake 1 to 5 of these vows, depending upon one's ability to keep them purely.)
Body
1) Abstention from killing.
2) Abstention from stealing.
3) Abstention from sexual exploitation
Speech
4) Abstention from lying.
Mind
5) Abstention from all drugs and intoxicants which alter the mind.



---
DIVISIONS/DENOMINATIONS

The Three Paths of Buddhism:

The Lesser Vehicle: HINAYANA:

Tripitaka - Foundation Practices for all Schools of Buddhism.
Theravada: India, Burma, Thailand, Cambodia, Laos and Sri Lanka.

The Greater Vehicle: MAHAYANA:

Sutra - Path of the Bodhisattva (includes Foundation practices)
Ch'an: China
Zen: Korea, Japan and Vietnam.

The Diamond Vehicle: VAJRAYANA:

Lam Rim - Secret Tantra and Mantra (includes Foundation Practices and Path of the Bodhisattva).
Tibetan Buddhism: India and Tibet.



---
BASIC TENET AND PRACTICE REGARDING DEATH
Buddhism follows the basic tenet that rebirth is an existing reality. Death is regarded as the actual time of movement from one life to another. All rituals at death are aimed at promoting an auspicious human rebirth into the next life, as well as preventing lower forms of rebirth taking place, such as rebirth into one of the hell realms, the hungry ghost realm or the animal realm.
It is imperative that a Buddhist representative be notified well in advance to see that an appropriately ordained Monk or Nun presides over the care of a dying person.

Back to Top