Even though the doors to
11 Madison Avenue have been
closed permanently, we are
available, preferably by email, at
tengyeling@tengyeling.ca
PROGRAMME

"The path to Eliminate Suffering and Cultivate Happiness."

Learn to live mindfully


Learn to give up harmful habits


Learn to develop trust and goodwill


Learn to live interdependently with yourself, others and all things


Learn to develop peace of mind


Learn to live your life in the Dharma




NOW
NOW
NOW
NOW
NOW
NOW
Ven. Lama Tenzin Kalsang
Dharma Discourse
Guru Puja Offering Ceremony
Shrine Room and Reference Library


---
Our Teacher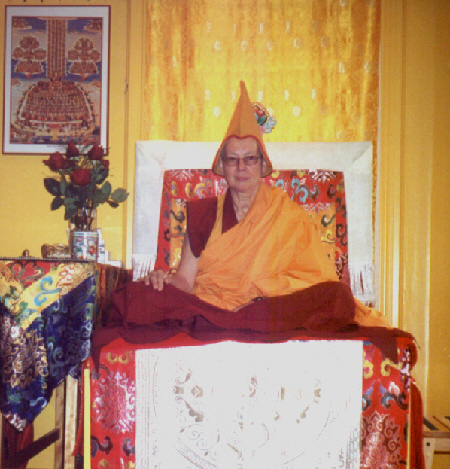 Ven. Lama Tenzin Kalsang
Weekly Dharma Discourses are given in English by our Spiritual Director, Ven. Lama Tenzin Kalsang, on Lam Rim, the Graduated Path to Enlightenment. These Teachings are from the lineage of Lama Tsong Khapa, our Root Guru and founder of the Gelug-pa tradition of Tibetan Buddhism. We also engage in mindfulness of breathing meditation. People of all levels of familiarity with Buddhadharma are welcome and encouraged to attend this class.


SANGHA
Ordained by
His Holiness The Dalai Lama
Ven. Gelong Tenzin Gyurmey

---
Dharma Discourse





Every Tuesday evening beginning at 7:30 p.m.

Those wishing to attend Dharma Discourse teachings should call
Venerable Tenzin Gyurmey at 416-966-4656
to request an interview appointment with
Venerable Tenzin Kalsang

---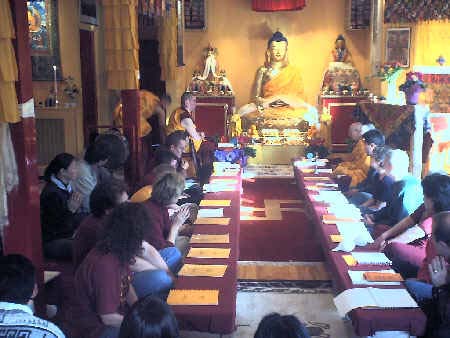 Please call ahead to confirm or check the Special Events link on our website

This prayer, chanted in English verse, helps us to strengthen our connection with The Living Buddha, His Holiness The Dalai Lama. This is the key practice of Guru devotion which enables us to create merit necessary to quickly reach the state of a Fully Enlightened Buddha for the sake of all sentient beings. Please bring an offering of vegetarian food or a non-alcoholic beverage.

---
Shrine Room and Reference Library

Arrangements can be made to suit individual needs





Nawang Champa

Back to Top